Before getting into the purpose of this post, I have to announce that, just like I mentioned I would do, I have added a bunch of stuff to Helena, the v16 Habbo server; that includes delayed item interactions (dices, wheel) and...

 ROLLERS! Still have to fix a few things on them — do you know about that bug of placing items while the roller is moving something else, which ended up becoming the stacking mechanic for Habbo? Emulating bugs is the worst. But I have already done it, inside my head; now I only have to write the fix into my server, which I am already feeling too lazy to do. Talking about distractions...

 This is something rater unusual for me, since I don't plan to do client stuff, and make the server work with the vanilla v16 client.

 But a few weeks ago, while I was hanging around Puomi, Joao and Alito were interested into an old mechanic, which, according to Ascii, Puomi's owner (source needed (about the mechanic, not him being Puomi's owner, of course (embedding parenthesis looks terrible, BTW))), had been present into the Habbo client; but was removed due to it allowing the duplication of wall items. The fact that the Shockwave Habbo client lacked it always felt so odd, and that makes it worth to be restored in my opinion.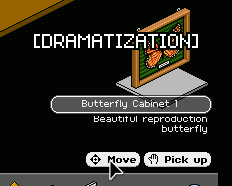 I'm talking about the ability to move wall items, just like you do with floor furniture; something which wouldn't be seen until Flash Habbo. And Joao and Alito really wanted it. So, what do? They coded it. Kind of. From what they have told me, Ascii first coded the request message into the client, but him being so humble, didn't seem to want to admit about doing it.

 Is that all? Nope. Sefhriloff and Alito's target versions jump between v14, v17, v18 and v21, among others, mostly due to them being the ones Habbo BZ, the Retro they are currently helping with, either has supported, currently supports or will support in the future. And Alito offered to give it to me. But I target v16. Fortunately, he added it to v16's hh_room CCT and handed it to me. I am adding this feature to my server along with its own request ID 91 despite it being considered "custom", since I can just not include it in the client, and a single extra request class in the server doesn't bother anyone.

 And like that, badabing badaboom, things on the walls are now able to move.